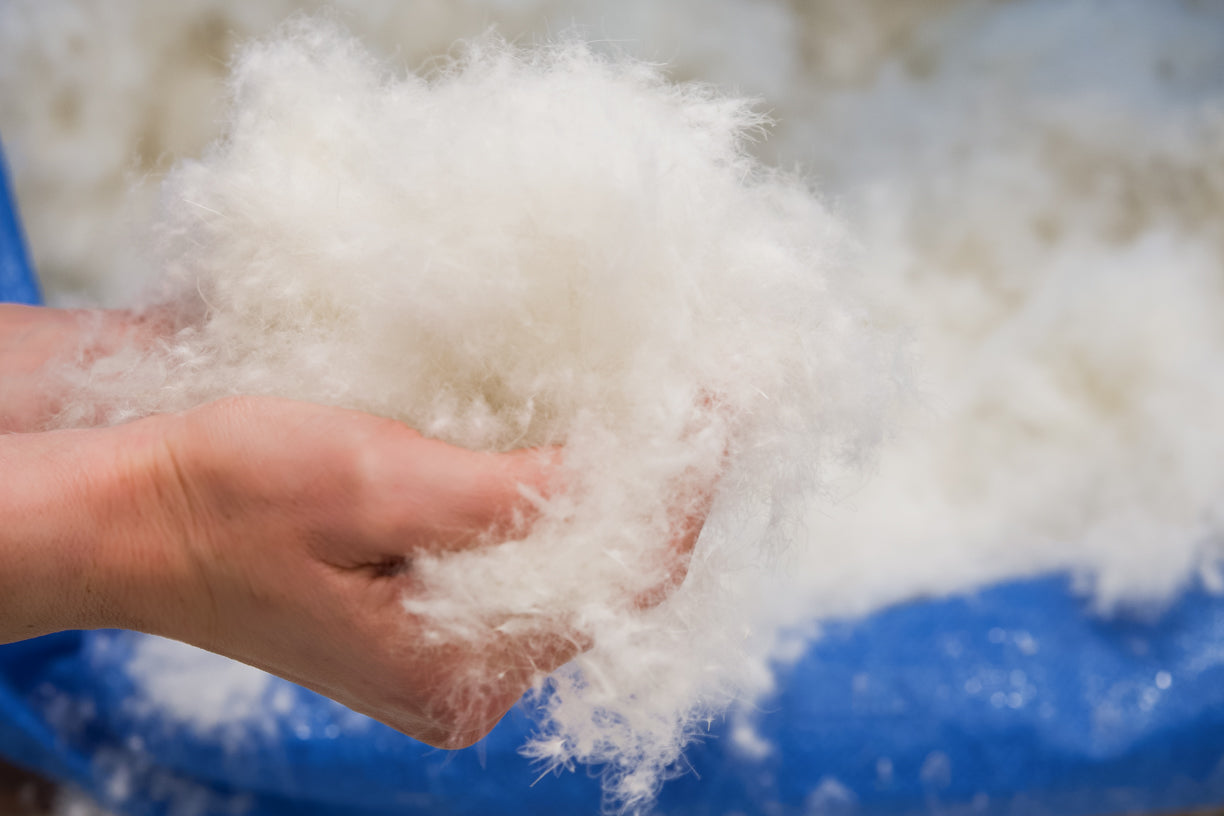 Responsibly manufactured
Joutsen Finland Oy has over 85 years of experience in down. We are experts of down and down products. Responsibly produced, high-quality,
clean, and safe down is the core of our action. We only use down from birds that have lived in good conditions, so it matches our criteria. Joutsen Finland Oy has long relationships with the bird farms that we buy our down and we always want to know whom we are working with. It is important, that our values match.
We use only ethically produced down that is a secondary product from the food industry. All down comes within the farms of EU, which provides good conditions for the birds. We also visit the bird farms personally. Most of the duck down comes from France. Goosedown is usually from France, Poland and Spain. Finnish goose down and hand-collected eiderdown from abandoned nests are used in some of our bedding.
We do not use down that has been plucked from living birds. Joutsen Finland Oy is a part of EDFA (European Down and Feather Association), which
forbids its members to use down, that has been plucked from living birds. It is also forbidden by law. Independent inspectors monitor the rules.
Every batch of down has a serial number and it can be tracked down to the farms. The entire process, from breeding the birds to the down deliveries arriving at the factory, is regulated and monitored by the EU.
In our products, we use certificated (RDS, Duntrack, Down Pass) and non-certificated down. The reason for this is that we buy down also from smaller farms that don't have the resources to go through the expensive process to get the certifications. Nevertheless, we know their working policies and we are sure, that the birds live in good conditions.

The quality of down from small farms is exceptionally good. Producers that don't have certificates, have signed the Code of Conduct and therefore are committed to following the ethical way that Joutsen Finland Oy functions.
Clean and Safe
The majority of down products on the market are made from down that has been washed by the material supplier. We at Joutsen wash that down once again using a multi-stage cleaning process (Joutsen Down System) which has been developed over decades.
At the cleaning process, the down is washed using water and hot air, without dangerous chemicals. During the cleaning process, we remove
all dust, dander, grease, and animal-based proteins from the down, which is about 15 % of the weight of the down washed by the raw material supplier.
Cleanness and safety are important things for us, especially in bedding, since we sleep almost a third of our life. As a sign of cleanness and safety, the down duvets and down pillows in our selection have been awarded the allergy label by the Finnish Allergy, Skin, and Asthma Federation.
Clean and safe down also improves the warmness and other features. Clean and chemical-free production also improves the safety of working at the factory.