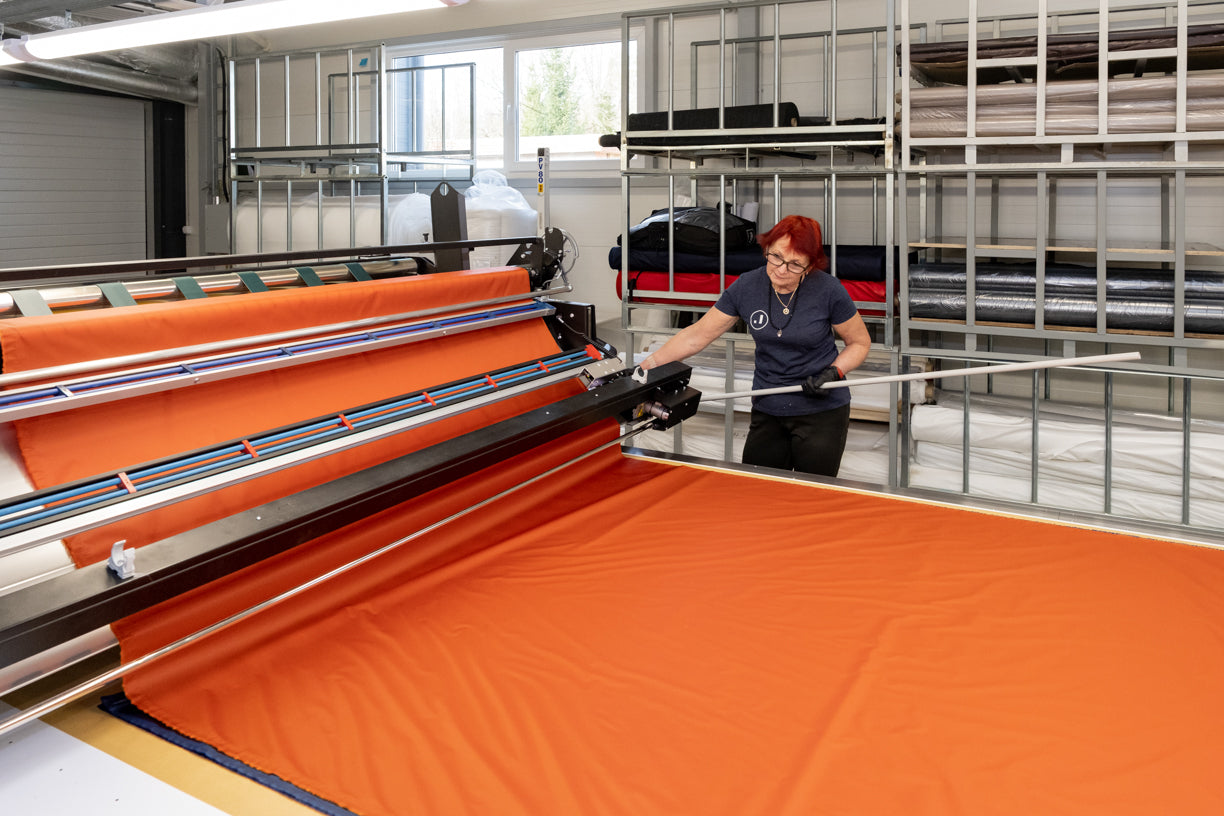 Joutsen products are made with high-quality materials. The down we use is the base of our action and you can read more about its ethics in
its own section. Fabrics we use in bedding and coats must be compact and durable. That sets high demands on our production. Joutsen Finland Oy has been selected to be part of Seed Village program of the renewable industry. As part of the program we get an individual analysis that examines the big picture considering our values, products, and services.
Down Coats and Light Down Coats
We aim to reduce the use of polyester and polyamide in coats and increase the use of recycled materials. Testing, if new materials fit our standards, takes time. The lining fabric of our coats is made from recycled materials.
There are a few Joutsen down coats that are made from 100 % recycled fabrics. Those coats also have PFC-free water resistance and they are sewed with recycled threads. There is one Joutsen down coat that is made from recycled materials and also has a bluesign®-certificate.
The other coat fabrics we use have a perfluoroalkyl C6 water-repellent treatment (WR / DWR), which does not contain harmful PFOS or PFOA compounds. Processing is in accordance with the POP regulation [(1021/2019) 4th of July 2020], which is limited in the EU.
Most of the tags (for example size tags) are made from recycled materials.
Down duvets and down pillows
Joutsen down duvets and pillows are made from natural materials. The down we use is responsibly produced and it is refined without dangerous chemicals in our own factory.
Microplastics are not released while washing our bedding. Pure, natural materials are easy to recycle. Long-lasting bedding has a small carbon footprint.
The cover of our bedding is cotton. Joutsen Finland Oy, as well as other factories, have faced challenges trying to find out the supply chains of used cotton.
The seam labels and cardboard attachments in bedding are made from recycled materials, excluding the seal and the Lurex-thread at the seam label.
Kulkuri down blanket and Henkäys bed cover are made from bluesign®-certificated Pertex® Quantum fabric.
All of our partners have signed the Code of Conduct that makes sure that every operator works ethically and respects the principles by which we want to act by. By visiting our partners we monitor our partners' way of working.