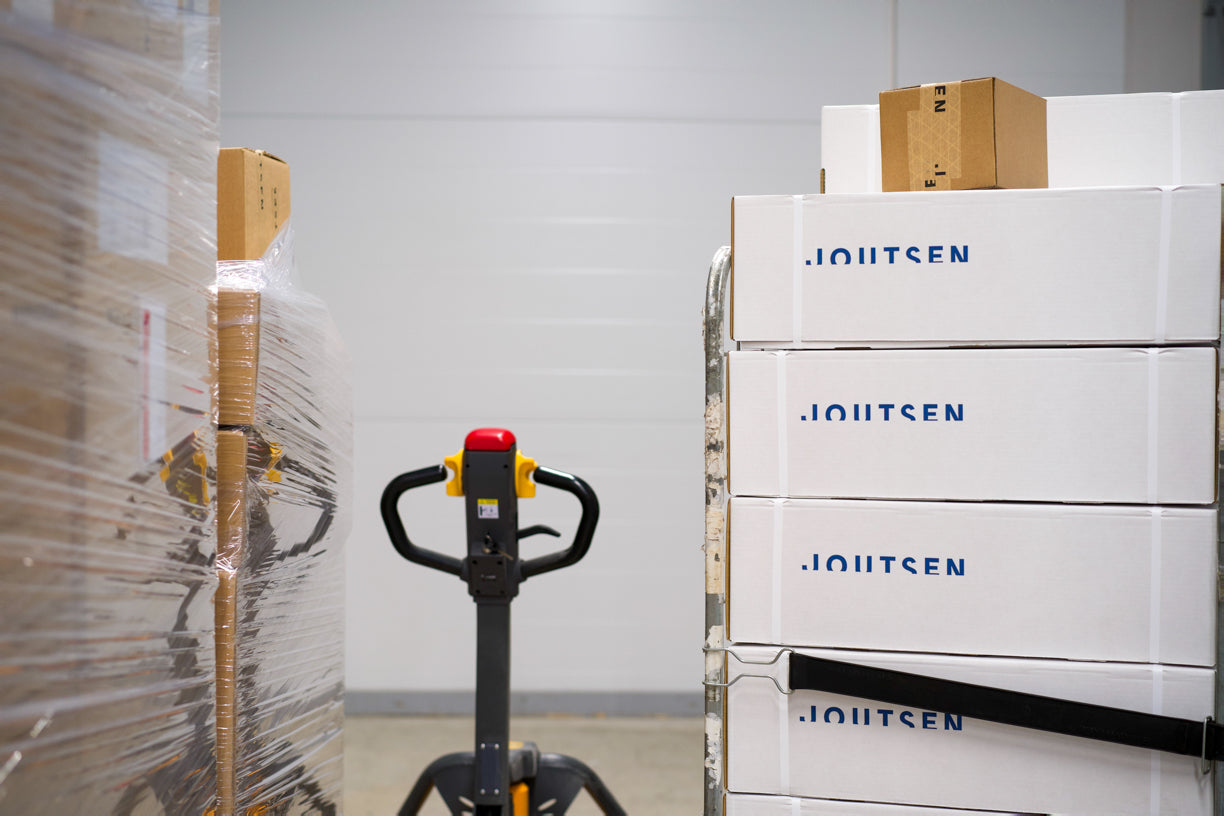 Joutsen Finland Oy has two factories. Our traditional bedding factory locates in Riihimäki, Finland. Our down coat factory locates in Estonia with more modern machinery.
All Joutsen down pillows are made in Riihimäki, Finland.
Most of the down duvets are made in Finland. Warm duvets from Jalo collection and super warm duvets from Syli collection are made in Estonia. Also, the Kulkuri down blanket and Henkäys bed cover are made in Estonia. Modern machinery makes a lot of our production, but the high-quality finishing touches are made by workers with expertise.
Manufacturing coats is a multiphase process. It requires special knowledge. The Made in -marking is determined only where the sewing is made. Down and light down coats are designed in Finland, by Finnish designers. Product development is an outcome of the collaboration of our factories in Finland and Estonia.
Purchases of materials are made from Finland, if possible. The down filling of our products is always as clean as possible. Over 50 % of the total of product is made in Finland.
Down coats are made by professionals in our modern factory in Estonia. The sewing for light down coats is purchased from small family-own partner companies in China. Joutsen Finland Oy has been building a co-operation with these companies for a long time. Like this, Joutsen has accomplished the highest level of expertise, materials, and the most modern machinery in the field, which is required for the production of high-quality down coats. We are proud of the partnerships we have formed in China, which currently has the best and latest machinery and high expertise in industrial clothing manufacturing. We visit these partner companies several times a year. Jackets made in China are checked and finishing touches are made in Riihimäki according to our quality standards. Regardless of the place of manufacture, the quality requirements are always the same for all Joutsen coats.
Manufacturing high-quality down coats require a special expertise and modern machinery. Unfortunately, factories like that are rare. We are constantly trying to find factories in Europe, that meet our standards, so it would be possible to manufacture closer to Finland.
We would love to manufacture our coats from start to finish in Finland, but the challenges in the Finnish sewing industry started many years ago when the education of industrial sewers stopped. Our job listings didn't receive any applications. If the goal was to manufacture only in Finland, that probably would have been the end of Joutsen down coats.
Joutsen down coats are sold all around the world. We present proudly our homeland. That is the reason why our products have a Finnish flag. It tells about purity and uncompromising quality. Joutsen down coats are made for difficult and changing conditions.