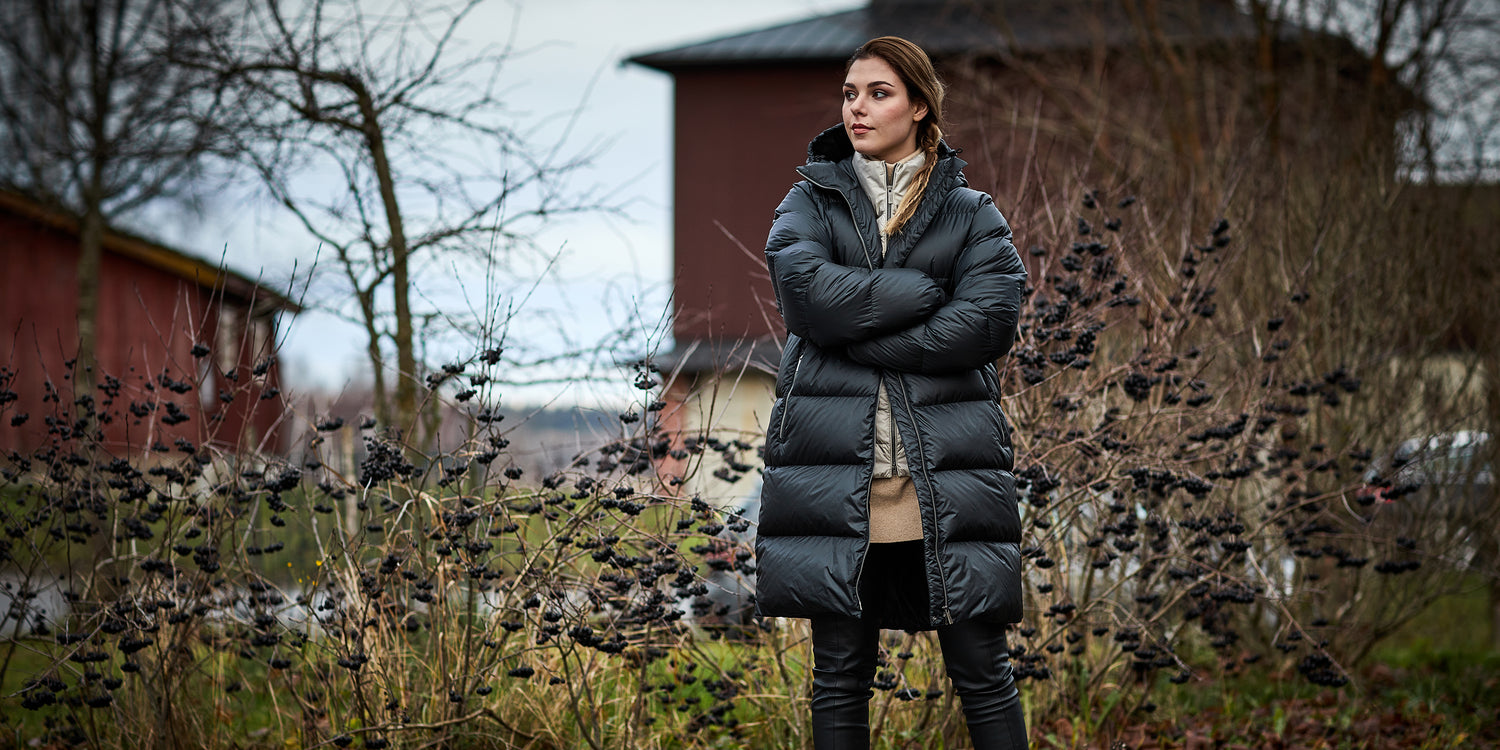 Not only does the good design and sizing of a down coat show; most of all it can be felt
Why to choose a Joutsen down coat?
1. Inspired by Nature: Our coats, born in the breathtaking landscapes of Finland and the Nordic regions, naturally resonate with the beauty and demands of an environment known for its clear seasonal shifts. Every design reflects the purity and richness of these landscapes.
2. Timeless Scandinavian Design: Embracing the principles of Scandinavian design, our coats are not just functional but also timeless fashion statements. With clear lines, simplicity, and elegance, they promise to be wardrobe staples for years to come.
3. Tested for Perfection: Before a Joutsen coat reaches you, it undergoes meticulous testing. We delve deep into its durability, assess its suitability for extreme temperatures, and ensure that every inch of it meets our high-quality standards.
4. Crafted with Precision: The art of crafting the perfect down coat isn't lost on us. With acute attention to detail and design, you won't just see, but feel the difference when you drape a Joutsen coat over your shoulders.
5. A Blend of Tradition and Modernity: Wear a Joutsen, and you're not just wearing a coat. You're embracing a rich Finnish coat-making tradition since 1936, perfectly interwoven with modern design aesthetics. It's where old-world charm meets contemporary elegance.
6. Responsibility and Certified Down Filling: We are deeply committed to ethical sourcing and responsible production. The down filling in our coats is not just warm and luxurious but also certified, ensuring it's sustainably and humanely sourced. You wear not just warmth, but also our promise of responsibility.
In every stitch, every design, and every choice we make, our commitment to quality, heritage, and responsibility shines through. With Joutsen, you're not just investing in a coat – you're embracing a legacy of excellence, craftsmanship, and ethical fashion.
Delivering warmth & craftsmanship since 1936
Experience the legacy of Scandinavian excellence! Our impeccably clean and ethically sourced Joutsen-down products aren't just items, they're sustainable investments for your well-being. Join us in celebrating the purest form of comfort with the world's cleanest down products, artfully crafted for your utmost tranquility