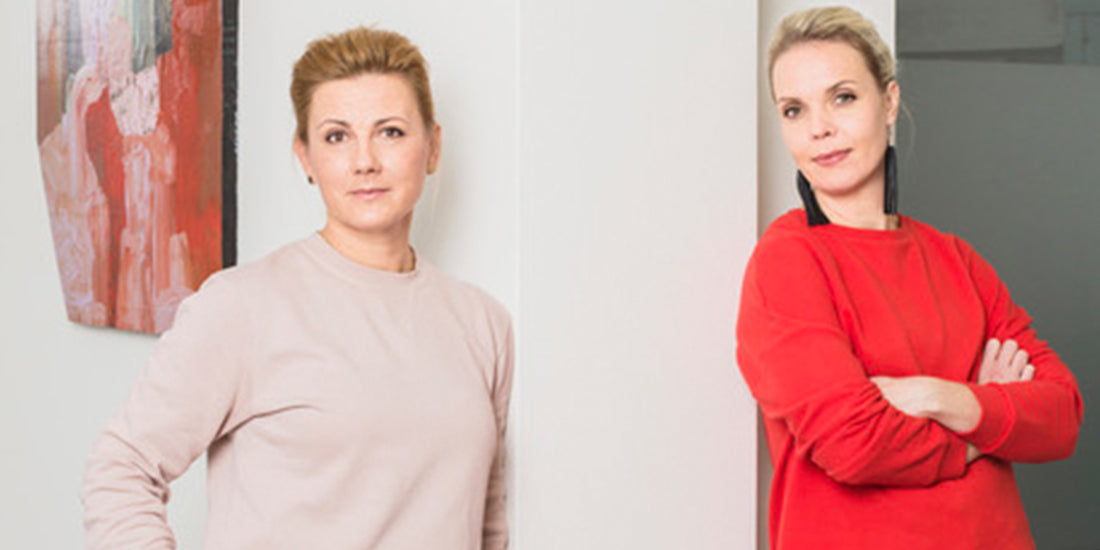 Photo by: Anni Koponen
'Festive occasions are wonderful, but those who find beauty in everyday life are the happiest. The feeling when some everyday matter, like wrapping yourself in a down-light favourite coat, gives you daily pleasure', describe Mari Talka and Mari Mattila-Kämäräinen, the successful duo that has designed many of the Joutsen winter coats. For them, the end user of the product always serves as the starting point for each design process.
Responsible, durable, and manufactured near Finland
'As a reaction to cheaply manufactured disposable fashion, responsibly produced durable clothes are once again valued. Online stores make product comparison easy. It is also easy to find information on the products, brands, and the places and methods of production', note the designers who know the industry very well. 'The competition for customers has become tougher and more international. On the other hand, genuine original brands, such as Joutsen, become better known', they continue.
Mari and Mari consider it a privilege to be able to design products for Joutsen, products that are made responsibly near Finland by a small team of highly skilled professionals. The designers are also happy about the fact that for its purchaser, a high-quality down coat is an investment that is valued and taken care of. The washing and repair service, which Joutsen offers its customers, also helps in this matter. 
Outdoor wear brought these talented women together
How did they end up as fashion designers and working with outdoor wear, then? Both of these artistically talented women have drawn much ever since they were children. At a relatively early stage and on their own, they both had the idea of becoming a fashion designer. Fortunately, they were able to study in the field and become employed right after their graduation. That is something they are both very grateful for.
Their first jobs were at companies that produced outdoor wear. Mari Mattila-Kämäräinen went to work in Great Britain and Mari Talka started to work for a Finnish company. One thing led to another. Several of the next work assignments had to do with technical and protective clothing. 'We learnt by doing that creativity and good design are also needed in the production of technical clothes. The technical requirements are not a restriction but rather a challenge', they describe. Eventually, job opportunities brought the designers together, and the successful design agency Studio Tint was established in 2009.
Shared joy inspires
The tight team designs everything together. The designers can get the inspiration for work or a down coat model from anything they see or experience. They must remain endlessly curious and open to everything new. 'Inspiration can come in the form of a sudden realisation or an observation about something that is missing or ought to be improved. Even though we follow international fashion, we trust, above all, in our own feeling', the designers state.
At the beginning of each project, the women first innovate about the products separately. Then, they both present their ideas and select a common direction together. They divide the design process into parts, and the design becomes refined, strengthened, and completed by discussing the content of these parts. 'The design process itself is highly motivating. The moment when everything falls into place is magical: suddenly individual ideas become products and products become a strong collection', Mari Talka describes.
Does the dynamic duo ever argue in the heat of close collaboration? 'We have never fought', both Maris assure. 'Our styles are very similar, rather sporty and streamlined. The best possible result has always been the common objective. We want to create durable products that can be customised with accessories', they continue. 'We love our work and get carried away by it. Joint designing is fun and often bears more fruit than working alone', the designers note happily.
Unique down
What kind of a material is the Joutsen down from the perspective of the designer? 'When designing a down coat, it is important to take into account the desired level of warmth, i.e., how much down is inserted into the coat, as well as the size and location of the baffles. Sometimes it is challenging to predict how the down is going to behave in the final product. With the aid of prototypes and samples, we test our ideas in practice and solve any problems together with the product development team'.
'The best features of the Joutsen down are lightness and purity. When designing Joutsen products, we are truly dealing with everyday luxury', the designers note in a satisfied manner.
Down coat-buying tips by Mari Talka and Mari Mattila-Kämäräinen:
Think in advance what you expect from the coat. For instance: intended purpose, required level of warmth, price level, and degree of fashionability (i.e., should the coat reflect the latest trends or serve for several years). Usually, one coat cannot meet all needs.
Describe your expectations to a sales professional and try on as many options as possible.
Think the purchase through and fall in love with your high-quality coat!