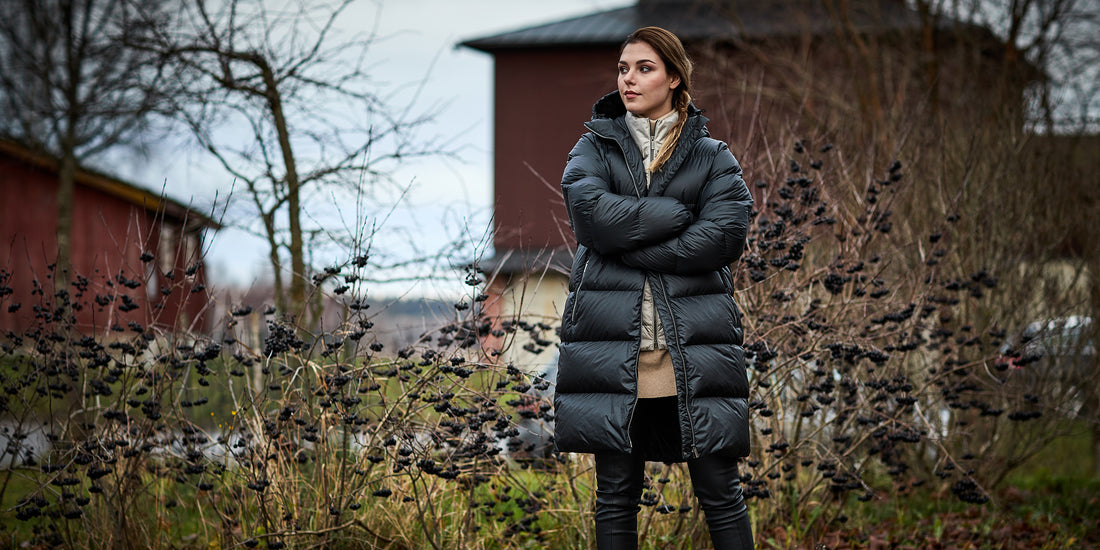 There are down coats and then there are down coats. There are old-fashioned thick, dusty and feather-bursting coats, and then there are modern, fitted and fashionable top-quality coats. Making the good ones is a skill where experience is truly an asset. Purchasing a good-quality down coat is also always an investment in winters to come.
But how to tell which coat is of good quality and which is a potboiler? Do this:
 1. Feel the down filling in your hand. Good-quality down filling feels soft in the hand, does not contain any feathers, and returns quickly to its original form after you compress it.
 2. Check the down/feather mixture ratio of the filling. The best filling is 100% down, because it is the lightest, warmest and most durable filling.
 3. Slap the coat and check whether any dust on top of the fabric from the down filling. Dust is a sign of poorly cleaned down and it has a direct effect on the characteristics of the down with regard to its warmth and service life. Dust also causes problems for people with allergies due to the protein it contains.
 4. Is the coat leaking down already at the store? Such a coat is best left hanging on the store rack, as this quality often gets worse after the coat is taken into use.
 5. Check the quality and functioning of the zips. Zips are the rare so-called moving parts in a down coat and they are often in frequent use. Zips include brand-name products and copies of them.
 6. Check the washing instructions of the product. A good-quality down coat will withstand machine washing and tumble drying, and this should be clearly indicated on the garment. Chemical washing is not the best solution with regard to the functioning and durability of the down filling.
 7. How does the coat feel on you? In a top-quality down coat it is easy to recognize the good patterning and the light, comfortable and breathable warmth when putting the coat on.
If you remember even a few of these tips in the store, you will be able to tell quickly which coat is one of the good ones. With down coats, the rule is never to buy a poor-quality coat – it will only cause disappointment. On the other hand, a good down coat feels pleasant from the first time you wear it, it will last a long time, and it is also an excellent investment in your personal comfort.