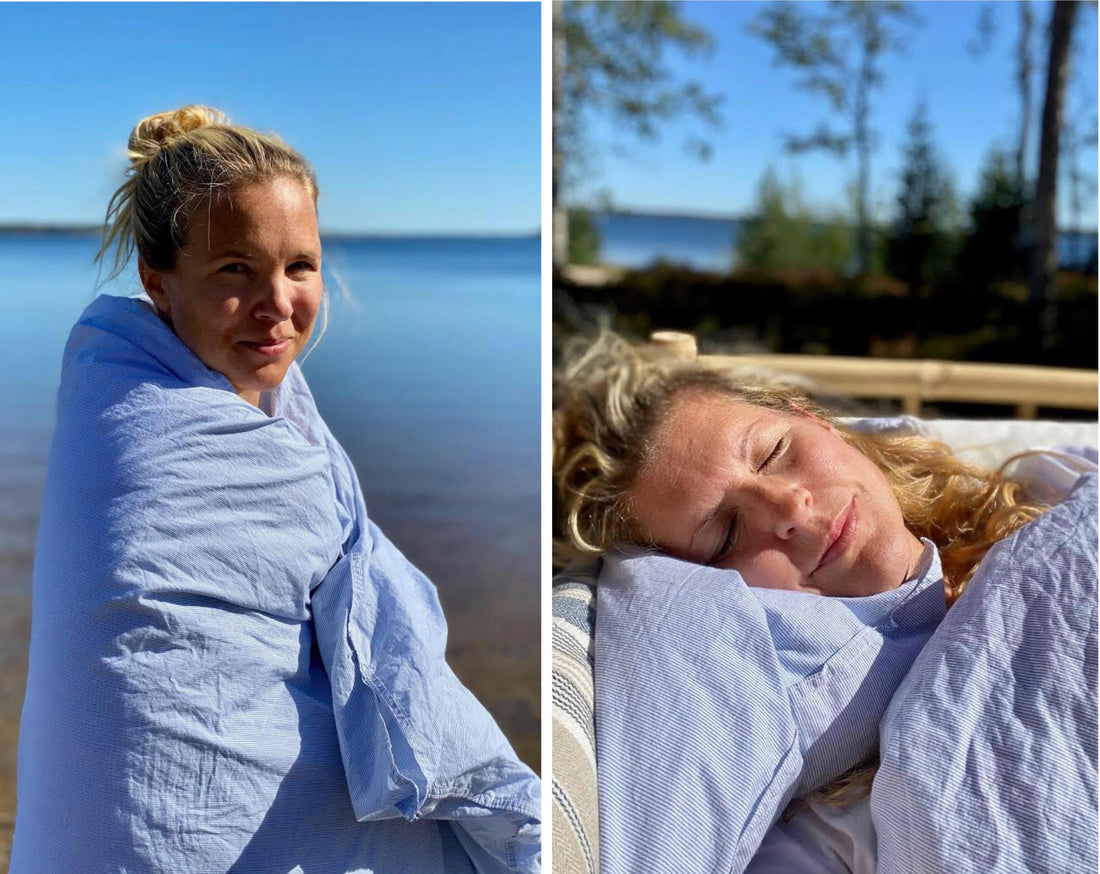 The former alpine skier Anja Pärson and her family live an active life with travel, work and leisure activities. When they get home, it is important to be able to relax and sleep well.
The whole family now sleep with Joutsen's down duvets and down pillows made from ethical, clean down approved by the Allergy,- Skin and Asthma Association in Finland. Anja and her wife Filippa have also fallen in love with Joutsen's down coats which keep them warm during the coldest days of winter. We asked Anja and Filippa what they like with Joutsen's procucts and what they appreciate most about their new down duvets and pillows.
Hi Anja & Filippa, tell us about your new down duvets and pillows!
We have chosen down duvets and pillows from Joutsen based on our family's needs. We are a family of three children between the age of 5-14 and two adults. We started by trying a few of Joutsens' products to feel how we liked the products, which quickly resulted in us now replacing all our duvets and pillows to Joutsen. Quite honestly - the whole family loves our new duvets and pillows!
How would you describe your down products from Joutsen?
Fantastic! Nice lightness in the duvets and puffy softness in the pillows.
After we changed our duvets to Joutsen, we are pleasantly warm all night without getting sticky sweaty. Another positive result of the high quality of the products is that our children sleep much better.
We always long for our own beds when we are traveling and always take the children's pillows with us because we have realized that it guarantees a good night's sleep for all of us.
What's most important to you when choosing duvets and pillows?
That quality corresponds to our high demands with everything from ethics around the entire production process and the handling of down as the main product, e.g. that Joutsen never use down or feathers plucked from living birds. But also that the products guarantees the cleanliness of the down and that we can be sure that our duvets and pillows are completely allergy-friendly.
In terms of use, it is important that we can tailor our purchases and have the opportunity to choose pillows and duvets based on us as individuals, but also that we can easily wash our duvets and pillows when needed. When you have children, you know how important it is to be able to wash duvets and pillows.
What tips do you have for others who are about to buy new duvets and pillows?
Think through what feeling and what needs you have! If you are very frozen in the winter and hot in the summer, you may have to change the duvet according to the season so that you have a cooler one in the summer and a warmer one in the winter. How do you sleep, on your back, side or stomach? Do you enjoy a large, puffy pillow? We love to have a lot of pillows in the bed and decided to have two different heights on our pillows to meet our different needs.
Finally, what are you looking forward to this autumn?
We hope for a crispy and wonderful autumn with that cold in the air but the sun lingering. As a family, we love to eat early dinner out in nature over an open fire and what is more wonderful than to be able to crawl up on the sofa with evening coffee and a fluffy down duvet to warm up under!
-------------------------------------------------- ------
Here you can find all of Anja and Filippa's favorites among Joutsen's duvets and down pillows.